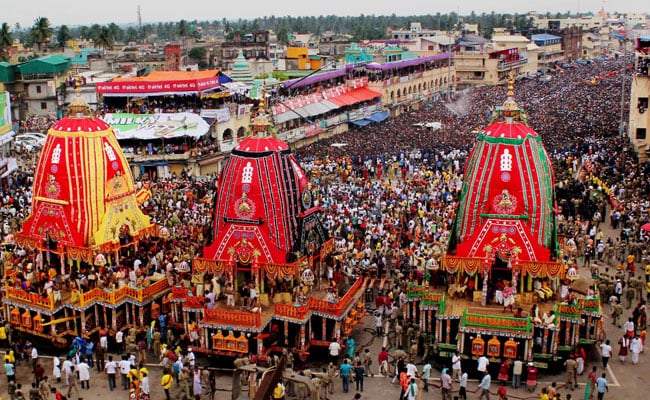 CONTENTS
OIL organizes study visit for school students to a Sucker Rod Pump 
India now has 10 Blue Flag beaches 
Nagaland: India's 61st software technology park opened in Kohima 
Punjab gets its first Dalit Chief Minister Charanjit Singh Channi 
Karnataka passes law to protect religious structures 
OIL ORGANIZES STUDY VISIT FOR SCHOOL STUDENTS TO A SUCKER ROD PUMP
Oil India Limited (OIL), India's second largest National Exploration & Production Company, organised a study visit for school students.
It was for a Sucker Rod Pump in one of its installation at Duliajan on 21st September 2021 as a part of celebration under Azadi Ka Amrit Mahotsav. 
Production Engineers from Oil India Limited explained the students about the functions of a rod pump. 
The engineers explained the students about the artificial lift technique in a well that provides mechanical energy to lift oil from bottom-hole to surface.
The students were explained how efficient, simple, and easy the technique is for field people to operate, and can be used to pump a well at very low bottom-hole pressure to maximize oil production rates. 
Around 25 students from nearby school visited the site today and were happy to learn about the rod pump and its function in hydrocarbon production process. 
(SOURCE: PIB)
INDIA NOW HAS 10 BLUE FLAG BEACHES
The coveted International eco-label "Blue Flag", has accorded the Blue Flag Certification for 2 new beaches in India this year –Kovalam in Tamil Nadu and Eden in Puducherry beaches. 
Foundation for Environment Education in Denmark (FEE) which accords the globally recognized eco-label – Blue Flag certification, has also given re-certification for 8 nominated beaches.
These Beaches are:
Shivrajpur-Gujarat,
Ghoghla-Diu, 
Kasarkod and Padubidri-Karnataka,
Kappad-Kerala,
Rushikonda- Andhra Pradesh,
Golden-Odisha and Radhanagar- Andaman and Nicobar, 
To conduct regular monitoring & audits for strict compliance of the 33 criteria at all times. A waving "Blue Flag" is an indication of 100% compliance to these 33 stringent criteria and sound health of the beach.
The objective of BEAMS program is to abate pollution in coastal waters, promote sustainable development of beach facilities, protect & conserve coastal ecosystems & natural resources.
In the last 3 years or so, our Ministry has achieved commendable results in environmental management of these 10 beaches and some of them are enumerated below:
Sand dune restoration and nourishment of 95,000 Sqm (approx.) with native plantation.
Reduction in marine litter by 85 % and 78% in marine plastic in last 3 years.
Saving of 1100 ML/year of municipal water through recycling.
3 years' database on regular testing of bathing water quality (physical, chemical and biological contamination) and health risk monitoring.
The Ministry is further committed to develop and deliver 100 more beaches under its ICZM initiative in the ensuing 5 years of Ministry's vision agenda.
(SOURCE: NEWSONAIR)
NAGALAND: INDIA's 61st SOFTWARE TECHNOLOGY PARK OPENED IN KOHIMA
Nagaland's first and India's 61st Software Technology Park of India (STPI) centre was opened on September 17, 2021, in Kohima. 
The Center was inaugurated by the Union Minister of State for Skill Development & Entrepreneurship, Electronics and IT Rajeev Chandrashekhar.
The Software Technology Park in Nagaland will host as a Centre of Entrepreneurship in IT Applications in Graphic Design. 
Here the students, start-ups, and innovators will be able to utilize the facility for the research and development of new innovative solutions.
The Software Technology Park of India (STPI) in Nagaland will help in promoting the region as one of the preferred IT destinations.
The Center aims at attracting IT/ITES/ESDM units to the State, promote the export of IT Software and Services from the region thus contributing to the Gross National Exports. 
Nagaland Government has decided to create 5,000 jobs for the IT and Information Technology-enabled services (ITES) in the next 2 years.
(SOURCE: JAGRAN JOSH)
PUNJAB GETS ITS FIRST DALIT CHIEF MINISTER CHARANJIT SINGH CHANNI
Congress leader and former Technical Education Minister Charanjit Singh Channi on Monday took oath as the new Chief Minister of Punjab. 
Two Deputy Chief Ministers — O.P. Soni and Sukhjinder Randhawa — also took the oath of office.
Mr. Channi is the first Dalit to head the government in the State.
Channi succeeded Captain Amarinder Singh, who resigned as the chief minister of Punjab on Saturday following months of infighting between him and (PPCC) chief Navjot Singh Sidhu. 
Channi is a three-time MLA and the first Dalit chief minister of Punjab. 
He has also been the former leader of opposition in the Punjab assembly. He represents the Chamkaur Sahib constituency. 
(SOURCE: THE HINDU)
KARNATAKA PASSES LAW TO PROTECT RELIGIOUS STRUCTURES
The Karnataka Religious Structure (Protection) Bill 2021 was introduced by the Karnataka Chief Minister Basavaraj Bommai on September 20, 2021. 
The Bill aims at protecting illegal religious structures in the state after his government faced a backlash over the demolition of a temple in the Nanjangud district of Mysuru. 
ABOUT:
The Karnataka Religious Structure (Protection) Bill 2021 aims to empower the government to protect religious structures in public places that were constructed before the commencement of this Act. 
The Bill offers protection to all religious structures that include temples, mosques, churches, gurudwaras, and other major religious constructions in public places that have been constructed since 2009 without requisite sanction from competent authorities.
The Bill further here on now restricts unauthorized religious structures and constructions of illegal shrines in public places in the future.
The Bill also protects the government and its officials from any legal suits or court proceedings for implementing the Act. 
The Bill bypasses all existing laws, decrees, judgments, or orders of any court, tribunal, or authority to protect religious structures that exist on the day the Bill commences. 
Supreme Court 2009 judgment:
The Supreme Court judgment dated September 29, 2009, on illegal religious constructions, had directed all states to demolish illegal religious structures stating that no unauthorized construction in the name of gods or religion can be allowed on streets, parks, or any public places.
However, the demolition of the Nanjangud temple on September 10, forced the Karnataka government to introduce a law to protect all religious structures.
(SOURCE: INDIAN EXPRESS)